Upon returning from the Second Annual Willys Moab Rally, I realized that I had a new appreciation for my hobby. I returned home full of a different joy and happiness than I had experienced before. This time the joy didn't revolve around my passion to create and fabricate. It revolved around the people and the relationships.
This year, I was in close contact with everyone who attended the Rally and many others who weren't able to make it. And I could sure tell that everyone was ready for a great weekend. I owe a big thanks to Pete Anderson from Oldwillysforum.com for doing a great job designing the T-shirts. They were a huge hit and I sold a bunch of them.
On Friday, many of us rolled into Moab at the same time. As I arrived in my 57/05 Rubiwagon and was looking for the KOA campground, I spotted Pete and his son Joe and their 60 Willys wagon. Next came Gunnar driving his 63 dually flatbed Willys pickup, followed by Brian in his Toyota powered wagon. I said hello to everyone and set the time for dinner at Zax Pizza.
By the time dinner rolled around 12 more people and 4 more Willys rigs had shown up. Karl and his Wife Carma brought their 47 CJ2a, Kyle and his wife Valerie had their 55 wagon, Duanne and his son Nathan, Steve and Janel Kehm and their friends Brent and Val, Dan and Terri Lewis, and Scott and DeAnn Prosser.
Camaraderie developed immediately and bonds were formed within the first few hours of our arrival. The conversations and smiles at dinner were really nice. This was looking like it was going to be a great event.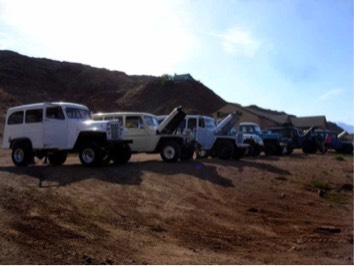 The next morning, we met in a dirt lot for a bit of chit chat before our trail ride. At that point, two more joined the group; Mike in his 53 CJ and Randy with his 56 truck. Now we had 9 in the group.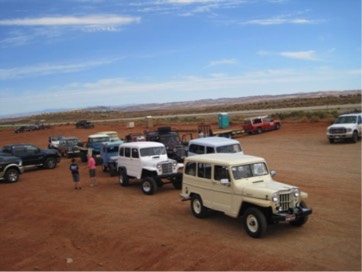 The start of our run was eventful. Randy's truck lost its gas tank almost immediately and it was dragging behind his rig. I was directly behind him and raced up to him honking my horn. He must have thought I was pushing him up the trail as he sped off in front of me. We got him stopped and fixed with the help of some bailing wire, spare hardware, basic hand tools and some borrowed gas from Gunnar's Jerry can. It was agreed that if it falls off your truck, it didn't break, you just didn't need it.


Bill Johnson and his wife Cheri led us through roughly 30 miles of mild trails and two wonderful hikes.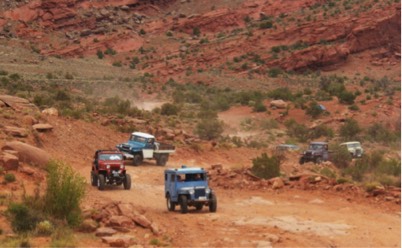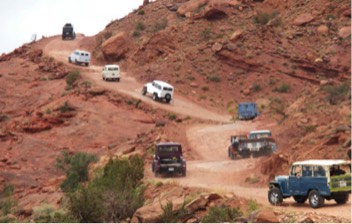 After a short hike at the bottom of Gemini Bridges, we ascended the canyon wall to a great lunch spot with a vista of snow-capped mountains in the distance and an overlook of the canyon below. We took refuge under some trees and enjoyed each other's company while Brian played his guitar.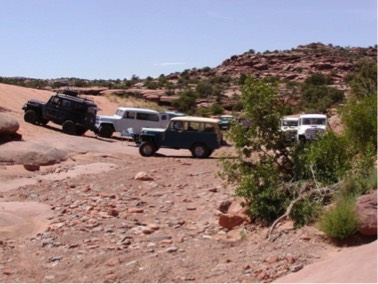 After lunch, we took a drive to the top of Gemini Bridges where we went on another short hike to view them from the top side. I enjoyed looking at everyone's smiling faces as they marveled at God's creations.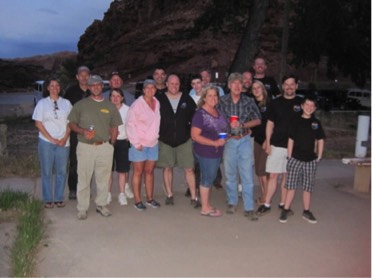 The plan was to meet at a restaurant after the trail ride and recap the day. Much to my surprise and enjoyment, as a group, we decided that our $200 Donation from Kaiser Willys Supply would go much further if we had a BBQ. Half of us broke off to gather supplies while the other half secured spots at the park. Stories of the day were shared as we enjoyed hot dogs, burgers and a beer....or two.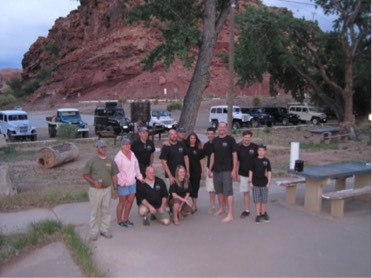 Thank you VERY much to the ladies that cooked, to Kaiser Willys Supply for the donation, to Bill and Cheri for leading the trail run and to everyone that attended and made it such a memorable event.
I think I can speak for everyone when I say that during this trip we all felt like family.