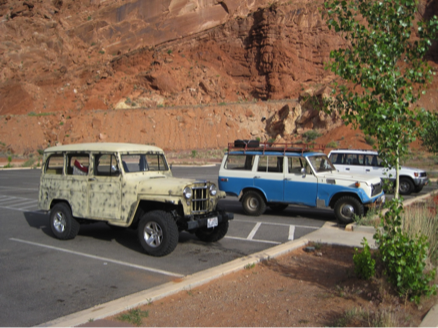 The first annual Willys Moab Rally started coming to life after Kevin and I met through the internet while building up our Willys wagons. We started talking on the phone and thought it would be a lot of fun to get together with some other Willys owners. We wanted to meet somewhere that was relatively close to both of us, so we chose Moab. We decided to pick a date and go with it. We created a flyer and posted it in a number of places and Willys owners from all over began making plans to join us. With that, the First Annual Willys Moab Rally was born.
Kevin was building his 62 wagon on a heavily modified original frame with a stout Chevy 6.0 liter, Dana 60's, Detroit Lockers, and 40" tires. I took a much milder approach with my 57 wagon and built it on a 2005 Jeep Rubicon frame. It's powered by Jeep's venerable 4.0 liter and has a 6 speed manual trans, Dana 44's, air lockers, 4:1 transfer case, and 32 inch tires.
Unfortunately, two weeks before our Wagons were to finally converge in Moab, Kevin informed me that he would be unable to make it. He had to undergo a major spinal surgery and would be down and out for 12 months. My brother/copilot had gotten the time off from work and I had received 10-15 RSVPs and my wagon was far enough along to make the trip. So we carried on as planned and set out on Thursday evening driving through the night. The Wind noise was pretty bad due to the lack of door seals and we froze our tails off in the 32 degree nighttime weather, despite having the heater on full blast. We reached Moab in just over 12 hours and stopped at the visitor center for Arches National Park where we found a vintage FJ-45 that was waiting for this photo op.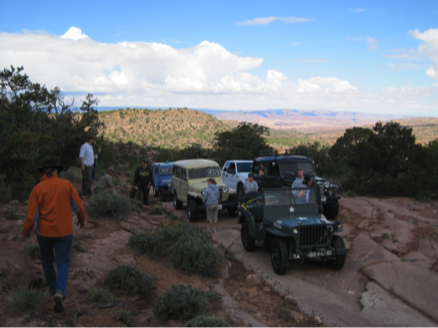 At that point, we had not heard from anybody yet, so we set out for a short off road excursion alone. We were out for about an hour before getting calls from everyone as they rolled into town. That evening we met at Zax Pizza for the Meet and Greet. We asked for a table for 8, but ended up needing room for 18! It was a bit tight and the management of the restaurant wasn't too happy, but it all worked out. In total we had 18 people and 5 vehicles. Some came without a vehicle.
The next morning we gathered in a parking lot to shoot the breeze before we headed out for the trail. I drove my 57 Rubiwagon all the way from Huntington Beach CA, Brian arrived in his 51 Toyota powered wagon from CO, James and Nancy's brought their 43 GPW from Farmington NM, Karl and his family brought their 47 CJ2a from Orangeville UT, and Ken and Kelli had their 53 wagon, but had to leave it back at camp because of some brake problems. Also present were Don and his wife from Scottsdale, AZ and David from Ventura CA.
We were all lucky and thankful that James and Nancy and their 43GPW had knowledge of the trails in Moab and volunteered to lead the trail run. James chose a nice mild trail called Porcupine Rim. At the trail head Brian's 51 Toywag had a fan failure that was quickly fixed with a new fuse. 100 feet down the trail the fun began. There was a boulder blocking the trail that was no problem for the little GPW, but was a bit tight for the Wagons. Another 500 feet down the trail we noticed we were missing Karl and his CJ2a. We called him on the radio. It seems he was having a bit of starter trouble. A few minutes later he had it running. Karl's wife was driving their Ford F150 and Karl reported later that she had a close encounter with that boulder, but came out unscathed with a bit of spotting and coaching. A few more steep and rocky obstacles later Karl's Wife was on the radio asking for a replacement driver.
My brother jumped at the chance to drive instead of bouncing around in the passenger seat. 500 feet more and the ToyWag was having trouble with the fan again. I was able to identify that he had a problem with the fan's controller so I bypassed it for him and hooked it up directly to a switch.

We were able to continue on without incident until we stopped for lunch at a fork in the trail. After lunch some of the group had endured enough bouncing around, so they turned off the trail and headed to Arches National Park. James, Nancy and their 43GPW and my brother and I in the 57 Rubiwag were back on the trail.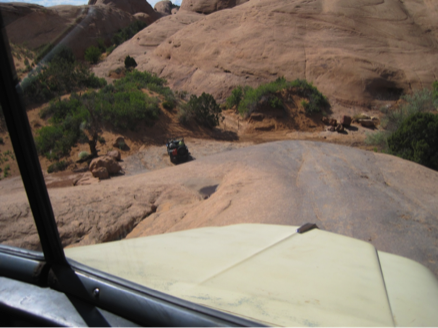 After a bit more bumping around on the trail, James and Nancy led us up to the ridge overlooking some of Utah's amazing countryside.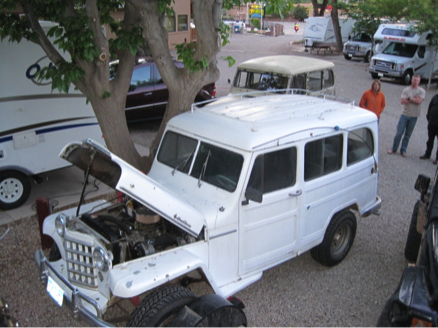 After the trail run we all met up at the Moab Brewery for dinner and a beer. We shared our stories of the day and exchanged contact information so we could all stay in touch.

On Sunday morning, my brother and I stopped by Arches National Park. If you ever go to Moab, I highly recommend you drive into the park at sun up. The combination of the colorful rocks in the early morning sun and the lack of traffic in the park make it a truly memorable experience.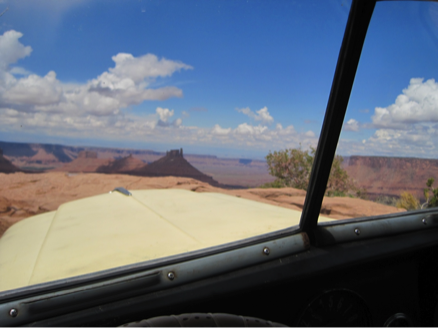 The trip was amazing and I find myself daydreaming about it constantly when I should be doing something important at work. I am looking forward to next year's gathering already. Those of you who would like to join next year's gathering, just send an e-mail to caseydimmitt@yahoo.com so I can keep you updated.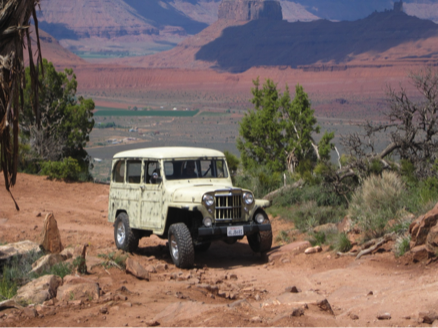 Special thanks to James and Nancy for leading the trail ride and Kevin for helping me plan the event. And another big thanks to Carl Walck and West Coast Willys for helping with the advertising. Also Pirate 4x4 forums and www.oldwillysforum.com for allowing us to advertise the event.